I'm going to try and include in my blog some of the simpler things in life that bring me joy-and there are so many little things! I'm not going to start a huge list now but I'm going to blog (with pictures!) from time to time some of these simple pleasures that I can overlook.
The first- and one of my favorites-is clean sheets. Clean sheets that have been dried in the sunshine, not in the drier. The anticipation of getting into bed at the end of the day to sweet smelling, crisp, clean sheets is just lovely. We have a "family bed", and to accommodate us all it is a queen and double pushed up together. It often has My Little Ponies, books, rocks and leaky breast milk patches in it-it just makes you appreciate lovely clean sheets that much more :-)
Of course a newly made clean bed is just too inviting and must be bounced on.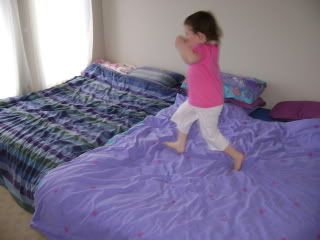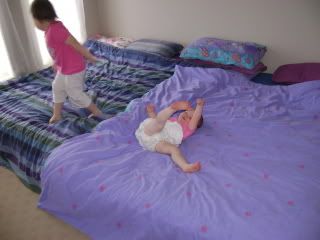 Another simple pleasure is watching my children and their Dad together. I love the bond that they have and marvel at how it is so very different to mine. Luke is a fantastic Dad-much more patient than I am-and the kids adore him. He works shift and the girls favorite part of the day is when it is time to wake him up. They both go in and jump and roll all over him and all I hear is giggling and Tannah saying "How's your work Dad?"
Here is Tannah and Luke putting the final touches to our Christmas tree this year.