Yesterday I had my blessingway. If you are unfamiliar with the idea it's kind of like a mother, baby and birth blessing for the Mama before her baby is born. Think hippy-la-la style baby shower ;-)
Instead of gifts (although I did get some lovely ones!) you usually get people to bring beads for a necklace or similar. I got people to bring images/affermations for a wall in my birthspace-so I could be inspired by all the women that have birthed before me.
Here is how it's coming along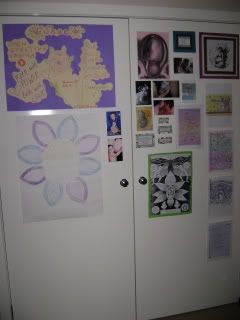 I also did a belly cast (which the lovely women contributed to buying for me) and we painted it. After everyone left Kate and I painted it some more. There is still some room for more painting and a special place for my baby's footprint-the girls put their handprints on my boob.
Here is how that is coming along
All the lovely women who came went home with a candle to light when I'm in labour and some string around their wrist which "ties us together" until birth time.
And last but definitely not least I had my big and gloriously round belly painted with henna. Hopefully the stain will last until the baby is born.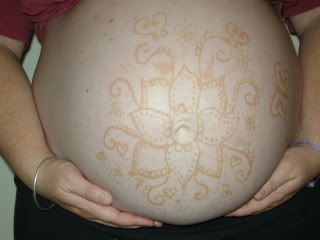 There was much delicious food and catching up. Lots of laughs-did I mention the food? Some of my guests traveled a long way. All of them did some kind of juggling with kids and partners on a weekend day to be there.Lovely Kate did a lot of organizing and really made my day super special. I feel so grateful to have such wonderful friends.
So baby...anytime you are ready now would be fine. I'm ready to meet you my love :-)