I'm back!
I went to this rally- http://www.abc.net.au/news/stories/2009/09/07/2678679.htm
It was amazing to see so many out in the awful awful weather for the cause.
It was a LONG day. I only took Harper which made my life pretty easy but because of all the rain I couldn't sit on the ground to feed to there was a lot of standing breastfeeding acrobatics going on. Thank goddess for my ergo and sling lol. The day was definitely sponsored by baby carriers, I think the ergo won hands down in numbers. There were some awesome banners and T-shirt slogans everywhere. Some that made me laugh and lots that made me think-and a few that made me sad. I ran into lots of people I knew from far and wide but took very few pics as I was busy chatting.
Here is one of me a couple of local friends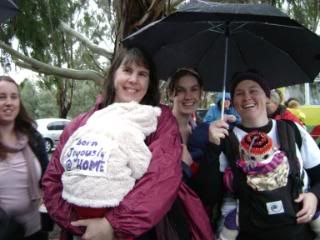 my view of parliament house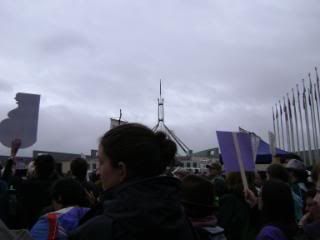 When I got home I was cold, wet and exhausted, but so glad I went!
This slogan sums it up...