I have a system that works! It's taken me over 4 years and lots of buying and trying to be happy.
Tannah got to test drive pretty much everything lol. She started in old school terry squares and PUL covers. Then I went to playgroup-nappy nerds, the lot of them and I was introduced to modern cloth nappies. Fitteds and pockets and all-in-ones OH MY! And the colours! The fabrics! The lust to have all different kinds! There were hand knitted pants that doubled as nappy covers-who knew!
But when Willow came along I went to All in ones.
So easy to use! I'd had my fun with all the other variations (and spent a bomb on some one of a kinds-oops!)as soon as Willow was past the tiny stage when fitteds are fantastic I bought a complete stash from
Bubblebubs
and I must say they have been my faves-they are still my main stash-we have only had to replace a few and get more cause we have 2 in cloth!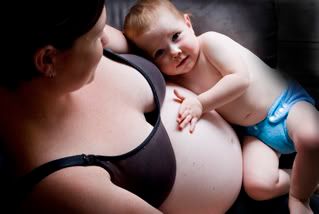 It is only recently that we have been using cloth at night. I love
Bumgenius!
with extra boosters for night.
Gotta love the cloth bubble butt :-)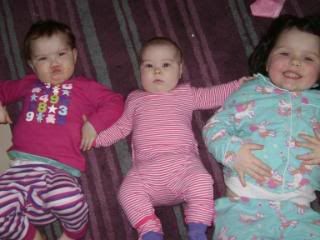 Using cloth is no big issue. I keep the wee ones in a nappy bucket with a lid but no water and the poo ones just go into a bit of water. Every 2nd day I do a wash. Easy. And it's fun! So many different types and some are soooo pretty! Check out
these
I want some of these pretty badly lol. Willow is even giving
training pants
a go.
A good place to check out is
here
at the Nappy Network-lots of good info about reusable nappies and links.
Don't write cloth off as too hard or messy. It can be heaps of fun and is really hardly a bother at all.