My 3 girls are so different in every way. They each have a different eye colour among other things. Despite this I do get a lot of comments about how alike they are.
I must admit I can't see it. I am probably looking with my Mama eyes and knowing them as people as well as by how they look. They all have SUCH different personalities that I find it had to say the words "alike" and "my children" in the same sentence. I was not expecting carbon copies each time but I was expecting that having 3 kids, hell having 3 kids of the same sex there would be more similarities. I have been blown away by just how individual they, and their needs are.
I have been doing the massive job of moving my whole catalog of digital photos from discs onto a hard drive in some kind of order (not there yet!). I have really enjoyed looking over photos of my 3 lovelies as younger people-not to mention a much younger me! I thought I'd share a photo of each of the girls at the same age and you can tell me what you think. Alike? Similar? Not at all? The girls are all around 10 months in their respective photos.
Tannah
Willow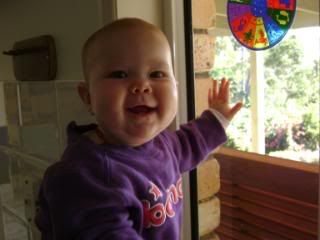 Harper
I will admit the lack of hair until well into their second year does seem to be a theme...