We are a
co-sleeping
family. I think a lot of parents who practice
Attachment Parenting
have an area of excellence so to speak and we seem to be grade A co-sleepers! I'm yet to really full-term breastfeed a child (though I'm on my way!) and I do love a pram when a baby is happy to sit in one (which is not all that often) so I can be a baby wearer by default but we are all still in our big family bed. Tannah left for a few weeks to sleep in a bed next to ours but she is back.
We discovered co-sleeping by accident
Tannah took MUCH longer to resettle into the bassinet by bed and I kept falling asleep when she was feeding. We all seemed to get much more sleep so there she stayed. I was wrongly advised by a health nurse (yes, I saw the health nurse with my first)of the "dangers" of co-sleeping and that she would never learn to sleep on her own. We were whisked off to "sleep school" which solidified my beliefs that she belonged in bed with us.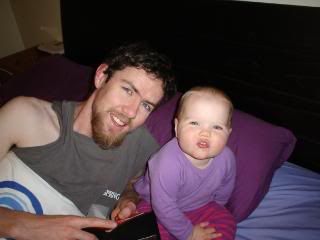 When I got pregnant, instead of moving Tannah we just made the bed bigger and put the mattresses on the floor (a queen and a double)so when Willow was born there was ample room for us all. Willow was happy to sleep in bed with Tannah for the first part of the night (not until she was able to roll away) which made my life easy and the girls got company from each other. I'm not sure why they still fight like they do! So cuddly and peaceful asleep.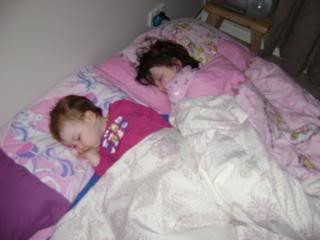 When Harper was born she just slotted into the family bed arrangement. There is plenty of room for everyone. Luke and I fit in between the girls.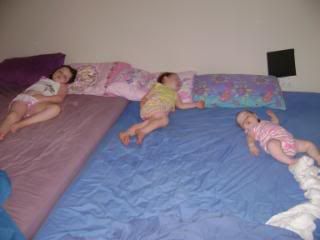 I get plenty of sleep, I never have to get out of bed at night and keep super warm and toasty in winter. Not to mention the fact that night feeding is a non issue. Baby grunts I put breast in her mouth and I doze while she feeds. When she is finished she doesn't need to be moved and we both go straight back to sleep. It really is so easy-I partly have not nudged Tannah out of our bed because I'm lazy and have no interest in getting out of bed at night. But mainly because she is happy sleeping close to us.And I like having my family close. And
this
study was very reassuring :) There are
safe sleeping guidelines
but sleeping with your baby, toddler and child is safe..and lovely.