This time a year ago my waters had broken and not much was happening except that delicious feeling of anticipation that I would be meeting my baby soon. I spent a lot of that day sitting on a fit ball and having some quality time with my midwife (I miss all the massages and foot rubs!) and resting up in preparation for the big event.
The event itself was short and sharp-3 hours of labour and only 7 minutes of pushing!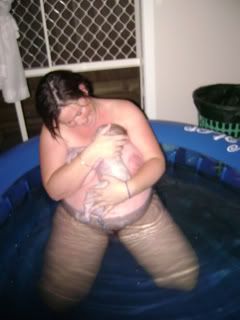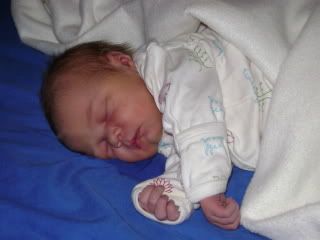 My last baby is a one year old. Soon she'll be walking and I'll have a toddler. I'm a bit sad about it all really. It will be a new chapter in my life to not be the mother of a baby anymore. But as she is my last I guess she'll always be "The Baby". Poor love.
But enough about me-let's talk about the birthday girl!
She is very determined and wants to do all that her sisters do and gets VERY frustrated that her body won't co-operate with her wishes. She loves cuddles and being carried around. She loves the bath and is usually the first one in and the last one out. She loves her Daddy and is more than happy to come to me for milk only when he is around. She says Mamam and Dadad and bokbokbok. She said "wowow" (Willow) once and I think she is trying to say Harper "hahpahpah". She puts absolutely everything in her mouth. She can climb so get stuck in some interesting places. Tannah can get her to dance on cue.
Most of all she is a delight. I am so grateful that she surprised us with her presence! We love you Hah-pah!