To give you a heads up-this is photo heavy!
So we're back from our first home ed camp. We had such an amazing time! We met lots of other families we hadn't met before and our kids really loved the park, beach and camping experience on the whole.
There was an amazing park (Lake Pertobe) across the road from the campground. Lots of space for kids to run
A lovely lake in the middle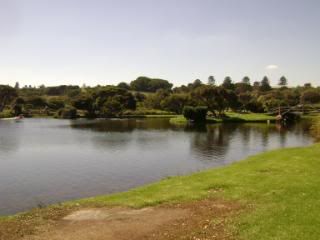 and a flying fox that had a seat for smaller children! Ours LOVED it and spent ages on it. There was also a bigger flying fox on the other side for older kids (and adults!)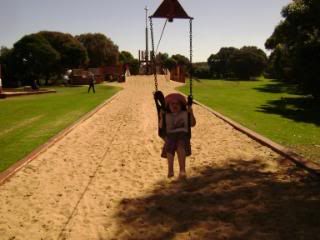 on the weekends you can hire little boats and drive them around the lake. Also a big hit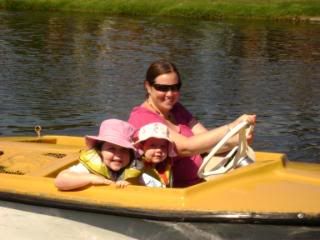 We spent a day at Tower Hill with most of the other camping families. It was full of wildlife. Like this little guy near the car park
Tannah loved the emus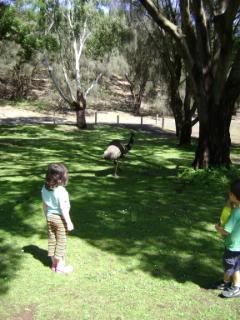 Tannah went on a big (for her) bushwalk with one of the other Mums and a few kids. I was worried that she's get halfway through and start complaining about it being too far or other stuff. I almost talked her out of it but the other Mum said it would be fine and if she hated it they could just cut the walk short. Tannah did the whole walk! She saw a kangaroo and a tiger snake off the path-very exciting. It was a great lesson for me to realize that I shouldn't assume she will not try new things.
There was lots of hanging out at camp. My initial fears of me stressing about Tans needing to be constantly supervised were quickly put to rest. She was given safe boundaries and then we just let her be. She had a great time. She found it hard at first to crack some of the already formed groups-she is a year or two younger or older than most of the kids who were there. But she made some new friends and had lots and lots of free play.
She also got an early birthday present-a scooter!
Before I get told off for the no helmet thing-I should point out that at the moment she walks faster than she rides it!
Here are some random cute family pics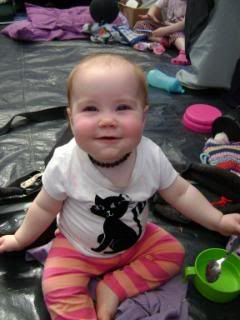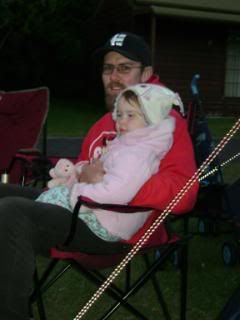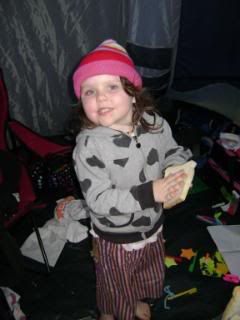 Of course all this play made for very tired kids!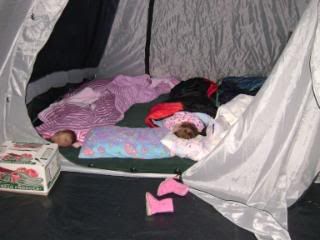 When the girls were asleep Luke stayed in the tent and I got to spend the evenings chatting with the other Mamas. I really enjoyed this. We are the "new kids on the block" as most of these families have older kids-some have adult kids. I learned so much from listening and talking to them. About all kinds of things lol.
The camp was a huge success for us. Camping in a tent with 3 kids went really well. We didn't forget anything essential-although I do wish Luke and I had remembered our jackets, the nights were cold! The drive (3 and a half hours each way) was easy-we did it with no stops on the way home! Every time I meet and spend time with other school free families I feel so at home and that we have made the right decision for our family. I'm always blown away at the other children I meet-they blow the socially retarded stereotype to bits.
But now I'm faced with the folding now everything that needed washing has been washed and added to the pile of already clean clothes as well as the stuff that came back clean from camp....