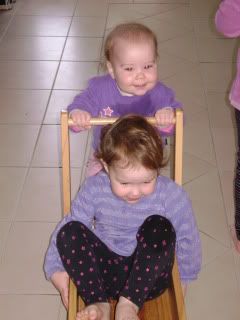 Being the youngest of 3 Harper has had it in her mind that she is as old as the other two for quite sometime. It causes her much annoyance that her body won't work like she wants it to and that she can't chase the big two around on foot instead of all that pesky crawling. She is also incredibly frustrated that I don't understand all the "uuhhhhh" and "mmnnnnnhhhhh" that she says. It must seem that I understand the other two-why not her!
But she is walking around all the furniture, pushing the trolley around and standing by herself a bit. This makes her happy. When she tries to walk and it doesn't happen, this makes her mad! Poor cranky baby-she is a ball of frustration at the moment. She is also losing patience with my attempts to decipher what all her grunting and pointing means. But to see her face as she said "moore" when she wanted another piece of apple and I complies-awww she was so pleased with herself.
I had forgotten how frustrated kids get while learning a new skill. It must be incredibly annoying for those around you to be running places and not understanding you. I'm trying to stay patient and not get frustrated back at her when she dissolves into tears over and over again.
I'm sure I'll read this post in a couple of months as she goes zooming past me...on foot. And I'll have a whole new set of issues!