One of my (many) gripes with regular school is it takes up a HUGE chunk of a childs life. I think that children, especially young ones, need a lot of unstructured time for free play. For us that means setting up play dates with other families for joint free play or just hanging at home and seeing where the day takes us. That can mean anything from play dough or crafting to the girls making up elaborate games and cubbies or playing in the sandpit and jumping on the trampoline. It can even be a DVD.
I was feeling quite stressed about the amount of organized, regular activities that we had committed to. With errands as well they were leaving precious little time for free play. I have restructured our week and it seems much more doable for all of us-and less car time for the kids!
So yesterday we mostly hung at home. I think that with all the rushing around of late the girls are starting to expect to be directed a bit so there were a few cries of "I'm boooreed" during the day. It didn't take long for some serious play to happen though. And as a bonus I got my washing folded! We also spent a bit of time discussing the
Journeys project
. Tannah wanted to know how far certain animals were from us and how we would get to where they live. We got as far as the cheetah. Looking it up (google <3) and printing off a map with an area coloured in for where they live. We went and looked on her globe so she could see how far from Australia and then we compared the distance in comparison to from here to the Gold Coast, which she is familiar with. It soon merged into looking at nature snippets on You Tube-my girls can't get enough of watching stingrays "fly".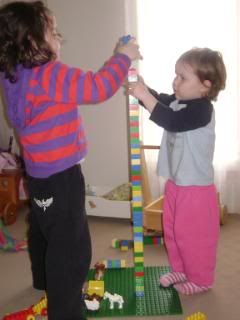 More time to play outside...just have to get my arse into gear about that.