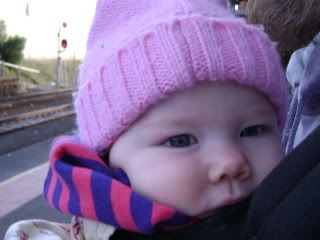 (which one of my winter lovelies do you think that baby is?*)
Winter is just around the corner! I have felt the chill on a few mornings already. I can smell that people have had the fire lit to warm up their house. The leaves are changing colour and falling from the trees. I hang out a load of washing in the full sun and when I bring it in at night it's still damp.
Noooooooo! I'm not ready for winter yet!
I'm from Queensland originally and wonder if I'll ever embrace a true winter with open arms. Every year I feel the seasonal shift and resist. Short days, heating, wet washing and wearing all kinds of layers of clothes and accessories. And lets not speak of having to wear pants to bed. We all get a bit of cabin fever and stay indoors way more than we should because I just don't want to drag myself out of the nice warm house into the icy wind.
But this year I want to set myself a challenge.
I want to spend part of most days outside. Rain and sleet permitting of course.
I am not going to use the cold as an excuse to hole us up all winter long and wait for September when we are all more than a little over the confinement. We will put on hats and gloves and go to the park, the
Picklefarm
, the zoo, the farmers market. Even making fun in our small backyard.
We went to a local park today with a couple of friends and it was so nice to see the kids running and playing. And it's what kids need. Outside play. Free outside play. The fact that all 3 have been sleeping soundly since half past 7 is an indication of this surely?
*Baby is Willow