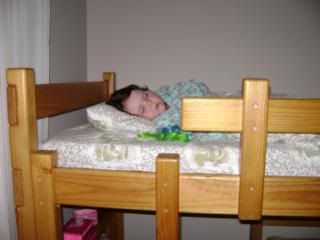 After 5 years of co-sleeping (well she turns 5 in a couple of weeks) Tannah is sleeping in her own room.
She has been sleeping in her own bed in our room for a couple of months and she has been restless for more space (our room is mattresses on the floor resembling a tetris game)and hinting at wanting a "big bed". She then had a
sleepover
with her besties and I figured if she can sleep at a whole other house without me no problem then she can probably handle her own room-which is about 2 metres from mine. One where she can see me from her bed.
Then we talked to her grandparents about using Luke's old bunks from their place and she was sold. All week we have been hearing-
"do I get my bed TODAY?? How about NOOOWW?" etc
And tonight when the beds were all up and together she asked to go to bed.
I know. I was amazed too.
She stayed in there briefly before re-emerging and I was worried that sailing might not go so smoothly. But after a story she took herself back to bed, snuggled in and went to sleep. Just like that. I wonder how the rest of tonight will go.
And there were four in the bed and the little one said....