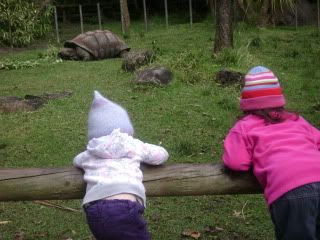 We were at the zoo recently. In the reptile house.
Tannah loves reptiles. Tannah loves people who love reptiles ie Steve and Bindi Irwin. Tannah loves people who love reptiles who make shows about them. Tannah loves to watch said reptile focused shows. And borrow books.
We were walking around and Tannah looks at a snake and says "look a zebra cobra!" I come and look and read the sign. "It's a black lipped cobra-it's definitely a cobra though". Next window. "Mum look!! A corn snake! Just like Bindi has!" It's totally a corn snake. Next. "Wow! a boa constrictor!" Again, she's on the money. Luke and I are exchanging glances by this stage at how she is able to identify these snakes by how they look, she can't read and even if she could the signs are way out of her field of vision. "ooh look at her tail-it's a rattlesnake!" Of course she's right. She identified 7 snakes and 2 kinds of lizard, including a Burtons legless lizard. She was so excited that she knew the names of the different types and asked me to identify the ones she didn't know. She is not afraid to ask a million questions or to be wrong because it wasn't a test. She was happy to be corrected on minor details and wanted more more more information about the snakes, lizards and crocodiles.
I was a little bit blown away that she knew as much as she did. Although I guess I shouldn't be. This is her area of interest at the moment and she can't get enough information!