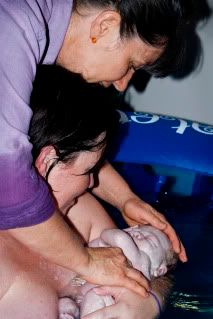 (Sally with Harper and I)
Today is a day to celebrate Midwives. Those who are truly "with-women". I have been blessed to know a lot of Midwives in the circles that I travel in. I have had Midwives look after me through 2 pregnancies. They have listened to my fears and hopes while pregnant, given me support (and massage!) and been in the background holding the space while I have birthed.They have scooped poo out of the birth pool. They have looked out for my well-being and health as well as for my baby. A good Midwife does all these things and a million more that I don't have room to list.
Sending blessings and love to all the good Midwives out there today. Especially to Julie, Lianne, Kate and my very favorite Sally. Thanks for being a part of my birthing journeys and a part of our lives.