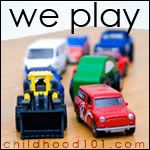 I don't know about you but I love getting a glimpse into other people's houses and set-ups. Here is a look into the play space at our house. I also love showing off all the great gear you can get second hand! These photos are if you are looking around the room clockwise.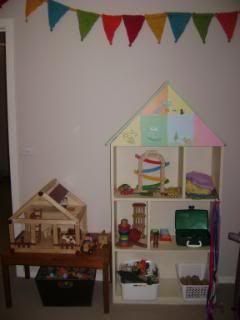 Farmhouse on op-shopped coffee table with collection of wooden blocks underneath. Bookcase with baby toys, plastic animals, train set, play cloths, matchbox cars and assorted bits and pieces.
pop up cubby house, cardboard boxes (these are used for all sorts of play!), op-shopped wooden ride on train and push trolley.
Dress ups, dolls on op-shopped table with all their clothes and stuff underneath in baskets (op-shop again!)
Kitchen corner. Table and chairs(op-shop), oven(eBay) with a heap of cotton, wooden and felt food and a wooden tea and cooking set.
I'd love to check out some other play spaces. Hint hint. To check out other great play ideas head over to Childhood 101 We play
HERE.