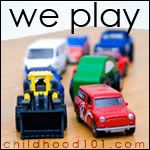 I have the easiest and best play dough recipie-and CHEAP! Use the cheapest brands you can find and you will get a lot of bang for your buck.
I cup plain flour
1/2 cup salt
1 tblsp cream of tartar
2 tblsp olive oil
1 cup boiling water
food colouring
Mix the dry ingredients and then add the wet-adding the boiling water last. Mix with a metal spoon until just combined and then turn out and knead on a bench until smooth, you can add a little bit more flour if it's sticky. It will be warm! Let it cool and you're done.
Kitchen utensils are rating highly here with play dough.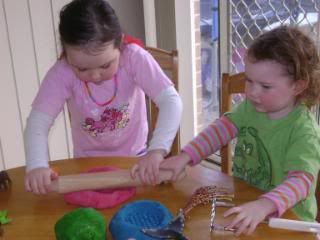 And making footprints with the animals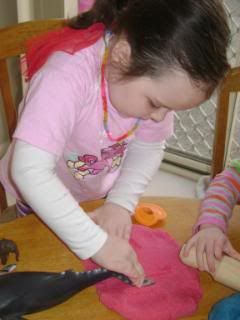 I don't think you can go past a good play with play dough with young children. Such sensory fun!
Come play at the Childhood 101 We Play link up
HERE.
I always find a heap of inspiring play ideas!