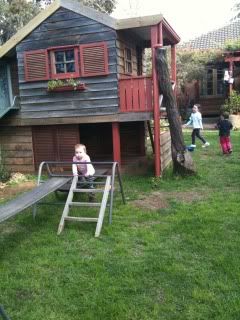 We have just returned from 6 days in Adelaide. We drove (9 and a half hours including stops) and stayed with Luke's cousin, her husband and adorable almost 1 year old. The cubby in the photo above is in their back yard and my girls spent a LOT of time out enjoying it. We went to a family do & visited Luke's Nana (Luke is from there originally), went to the Adelaide zoo (awesome! Recommend it!), went to a car boot sale (Luke's cousin is just as into 2nd hand goodies as me, lucky we took the trailer!) and generally spent time hanging out and going to the park.
Can I tell you how lovely it was? It was SO lovely.
And this afternoon I was feeling grouchy with one of the kids and wondering why being on holidays was so fricken easy and without cranking. *cue lightbulb*
There are a few reasons I think.
-Luke was there. 2 parents definitely makes the load easier. Props to all the single parents out there. Also 2 other adults were around a lot of the time as backup. And I got a fair whack of child free time.
-the kids were busy exploring new places and having new experiences. Having a great outside space to play in was so awesome.
-but here is the big honest one. I'm just going to say it and hope I'm not judged too harshly. I controlled my temper because there were other people around. Every time I felt myself getting cross I just stopped myself from raising my voice or cutting off the kids from protesting and actually listened to them and helped out accordingly. And surprise surprise they were much happier and more co operative.
This afternoon I realized that I am capable of parenting without losing my temper. It was such an empowering thought. I'm sure there are 3 other people that will be pretty happy about it too.