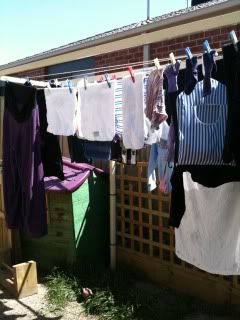 I'm not a cold weather person. Or a short day person. I like heat and sunshine and long days. I even like the rain if it's a refreshing drench after warm weather.
This winter has been long and cold and dreary and wet. Those of you that live in Melbourne know what I mean. It has sucked.
But today it is sunny! My washing is on the line for the first time since March. We had already walked down to the park, done painting and played in the backyard by 12pm today. The TV is off and the kids are nude and sandy from playing in the sandpit.
I feel motivated already :)