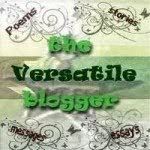 Yay! An award! And versatile is a pretty apt description of my blog lol.
Task 1. Thank the person who gave you the award: Big thank you to Jayne at
Random Ramblings of an Unhinged Mind
Task 2. Share 7 things about yourself:
1)I have a peanut butter obsession. I eat it on pancakes amongst other things. Don't eat the peanut butter at my place...unless you are comfortable with my fingers having been in there.
2)The idea of sharing drink bottles with my kids makes me want to gag. Clean up vomit-sure! Wipe a pooey bum-no problem! Get an atom of saliva or food in my water-BLERGH.
3)I am 14 days younger than my husband
4)I wanted to be an actress or a vet when I was in high school. I was pretty good at acting and won some awards and went on to be a vet nurse-which cured me of wanting to be a vet lol.
5)I'm a bibliophile. I LOVE to read. I could read by the time I was 4. Before kids I used to knock back at least one book per week, often more. I loved commuting to the city by train because of all the extra reading time! I'm pretty open to genre and author-anything but Twilight really haha. In english class, I used to get the reading list for my grade and go read all the books in the first few weeks of the year. I re-read books I love over and over. My favorite books are To Kill a Mockingbird (not a coincidence my daughter is Harper) by Harper Lee, The Stand by Stephen King and The Lovely Bones by Alice Sebold.
6)As much as I love living in Melbourne I regularly get homesick for my hometown of the Gold Coast in Queensland and miss my family and friends there terribly.
7)I'm a crier. I cry in movies, when I'm upset or overwhelmed, when the lyrics of a song move me. I cried when the winner of junior Masterchef was announced.
Task 3. Pass the award onto 12 Bloggers you have recently discovered. I'll try for recent but no promises. Also Jayne covered a few I would have done-
check her list
out.
1)
Disney princess Recovery.
I LOVE this blog! "the experiences of one parent and my quest to reclaim my daughter's imagination after it was hijacked by Disney Princesses."
2)
Honest To Betsy.
A great Natural Mama blog
3)
With Hands and Hearts Full.
Beautiful blog of a homeschooling Mama of 6.
4)
Restless Wanderer
. Love her in real life, love her blog. Homebirth, breastfeeding, doula-ing, home education. All topics I love!
5)
Bowl Of Stones.
Lovely Steiner home educating Mama. Beautiful blog.
6)
Homebirth-a Midwife Mutiny.
Blog by an amazing midwife in South Australia. If you are interested in homebirth you should read this.
7)
Majikfaerie.
Great Aussie unschooling, midwifing blog.
8)
Planning With Kids.
I get lots of great ideas from this blog!
9)
The Parenting Passageway.
Not a new blog to me but always worth a mention. If you are after an inspirational parenting blog with a Steiner angle, check it out.
10)
Apron Stringz.
Also not a new blog to me but I'm always inspired by this radical housewife's honesty.
11)
Natural Parents Network.
New site! Lots of great info and blog posts over there. It even has a forum.
12)
Earthy Motherhood
. Great blog about just that!
Phew! That should keep you going for a while!