I think a lot of people hear the label "unschooling" and immediately think "chaos". At our place that is absolutely not the case.
I am a fairly organized and tidy person. I think anyone who has been to my place knows I like minimal stuff kept in some sort of order. This does not mean we live in a museum that is not child friendly, but everything has a place and it means that the kids can find and access what they are looking for pretty readily. As we still have a baby around the place it also means I can keep inappropriate things in high places for the big girls to do when Harper is asleep or I am able to supervise and help fully.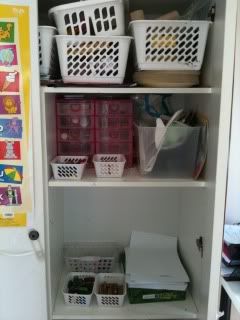 At the end of each day I pack up. Sometimes the kids join in, sometimes they don't. After a lot of soul searching and deschooling I came to a place where I was not getting pissed off at the lack of help. The tidiness thing is my issue and I think it's part of helping them learn by keeping a house that is uncluttered and user friendly.
We also have no set times that things must happen, but we certainly have a rhythm. I always liked the Steiner idea that life has an in and an out breath. I really agree that naturally we seek to live like that. Seeking outward stimulation and activities and then resting and having downtime. This rhythm seems to happen of it's own accord for us and the in and out breath is both a daily and weekly happening.
I think that it is a misconception that most unschoolers also "unparent", leaving the kids to their own devices with no outside help and no rhythm to their life. Certainly there is enormous room for flexibility and unschooling will look different in each family but it doesn't have to be chaos and disorder.
I'm joining in (a day late!) with
Owlet
for
Unschool Monday.
Check out her link up for other ideas.