It's only a couple of weeks to go-I'm so excited! I've talked about
celebrating xmas
before-we definitely enjoy the silly season around here!
The tree is up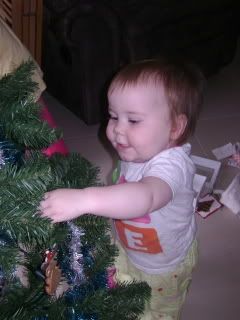 I've wrapped the presents and almost finished my xmas cards.
The big girls have been waving enthusiastically at Father Christmas when we see him out and about and have even chosen to have a photo this year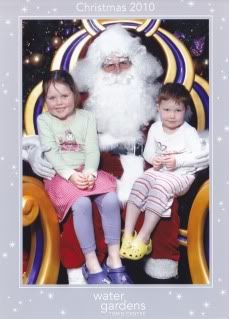 Tannah is adamant that Santa is real. We don't do easter and we've talked about how the tooth fairy is a game that parents play when their child loses a tooth. I asked her if she thought Santa was real or a game like the tooth fairy-she looked at me like I was talking in another language and said "Mum, he's REAL". So we're doing all the fun stuff that comes with the make believe of the Santa Claus myth. I'm even going to make the
"reindeer food" from The Organized Housewife
. As long as my kids want to do the Santa stuff I'm happy to play along, but I'm going to be open when they are questioning the myth.
For now we are counting down the days on the advent calendar, making wrapping paper and talking about what kind of biscuits we might like to bake for Santa.
Hope your xmas build up (if you do xmas) is just as fun as ours is.