I'm always on the look out for easy recepies that I can use spelt flour in place of regular wheat flour. Especially bready type things. I received my copy of
Otherways
and there was a yummy recepie for this flat bread that needed no yeast and was pretty fast as far as breads go.
You'll need-
250g plain flour and extra for dusting bench, roller etc (I used spelt flour)
1tbsp olive oil and extra for the frypan
1tsp of salt
150ml warm water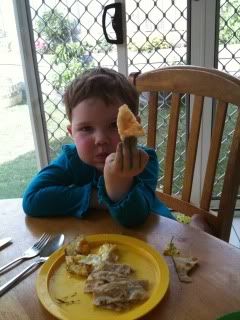 Mix the salt and flour together and add the oil to the water
add them all together and mix with your hands (or spoon) then tip out onto a floured bench and knead for about 5 minutes until the dough is smooth and plump
leave to rest for about 15 minutes
knead again & cut into 8 equal parts. Roll each segment until it's a thin round.
heat a small frypan with a little oil, fry the flatbread on each side for about a minute. You'll see dark spots appear and the bread will puff a little. Keep them under a warm tea towel until they are all cooked.
(the directions in Otherways are much more concise than mine!)
We ate ours with eggs from our chooks but the possibilities are endless! I think they would be delicious with dips.
Enjoy! We did!