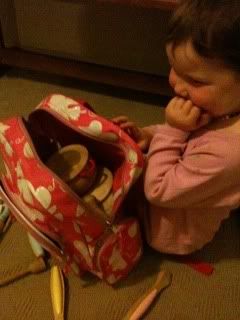 We are one of millions of families who are traveling this xmas time. I'm an organized sort of person who travels with kids a lot (my family live interstate and I fly with kids at least twice a year-usually by myself)so I'm in the throes of getting my shizz together for this trip-nothing sucks more than a last minute crazy panic before you leave for the airport. I thought I'd share some stuff that I find useful.
-if you are going somewhere where the weather is going to be different to where you are now check you have appropriate clothes that fit. I've assumed that the "magic bag of hand me downs" that lives in my wardrobe would have enough suitable clothes before only to find out, as I am packing the bag, that I was wrong. Do this weeks in advance to give yourself plenty of time to shop/thrift/borrow.
-check ahead to see what facilities your accommodation has with regards to washing clothes. You can wash more and pack less if the washing stuff is easy.
-start sourcing fun activities little by little. I've been buying a colouring book here and some stickers there to make grab bags to take on the plane. It makes it easier than buying an expensive pack at the airport. Also you can print off colouring pages off the web or pack a scrapbook and let their imaginations run wild.
-make photocopies of your child's birth certificate and put them with your tickets. Make sure your medicare cards and bank cards are not going to expire while you are away.
-if your kids are going to be able to watch a movie on the plane one of 2 things will work. Either a brand new and exciting movie (usually older kids) or the one tried and true favorite that they know by heart. If you are going for a new movie ask your friends and maybe borrow something rather than buy.
-don't take textas on the plane or in the car! Looking for lids rolling around is not fun. Find some wind up crayons.
-organize a housesitter. Truly, it's such piece of mind if you can.Especially with pets. You'll be surprised at your friends who want a holiday!
-recharge batteries for the camera. pack the recharger.
-make a list of things that you use up until you leave so you can pack them last and check it off without forgetting anything. Mine has things on it like phone charger, night light, lip balm, Tannah's Betsy (her much loved stuffed cat), Harper's dummy, vitamins and the kid's hats.
-if you have special dietary needs find a local health food shop. I have one near my parents where they order us in the bread we even can put an order together for my Mum to pick up if I fax it ahead.
I would love to hear other people's travel tips!