(my brother and I xmas morning upon spying the presents)
Christmas was always a big deal in my family. We are not religious but we are big on family and good times so we always celebrated it as a family holiday. About spending time together and giving gifts to those you loved. I knew that no matter how hot it was (I grew up in SE Queensland) that my Mum would cook a roast lunch with all the trimmings and if the weather was good we would hit the beach later in the day. We had a tree, usually real that the cat would climb up and knock over at least once.
(me at a xmas party at pre school)
We often traveled interstate to spend xmas with family. We wrote letters to Santa to make sure he knew where we would be. I remember waving to Santa at the shops and feeling excited. No matter how hard times were (and as a child my family hit on some pretty tough times) there was always something under the tree for us to open and lots of little goodies in our Santa sacks. I look back now and wonder how much my parents gave up for themselves to make xmas day special and exciting for us kids-and I'm grateful.
Even as my brother and I grew up xmas was still a hugely fun day. Still with a roast lunch, now with some beer.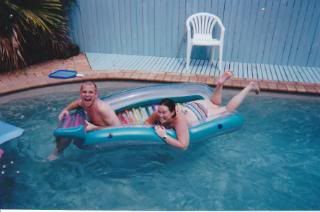 (my brother and I xmas day 2000)
I feel a bit sad that hyper commercialism has sucked some of the joy out of this day that can be so magical and fun. I remember the magic of Santa Claus bringing me a present and the anticipation leading up to that day. I remember, as I got older, carefully choosing gifts for my parents and friends. I have such fond memories of the whole holiday season and all the parties and catch ups we would attend and when the myth of Santa was outgrown we continued to celebrate with our loved ones.
(me opening gifts and my grandparents house xmas morning)
I feel like the retailers keep blowing this further and further out of proportion and now those of us (in the hippy la la circles) who celebrate in whichever way we choose can be looked down upon as demons of hyper consumption.
As for me I have the presents wrapped, including the ones from Santa Claus. I'm picking up a (free range)ham tomorrow to share with my inlaws and we're going interstate to spend this xmas with my family. I hope that if you choose to celebrate xmas (and I think it's a very personal choice) you can be unashamedly excited about it like I am.
It's a family tradition that I just love sharing with my children.