I've said, oh maybe a million times, that we have a
small backyard
. This in itself is not an issue. Unless we want a house cow..But we do make it work for us and the recent addition of grass instead of crushed rock has made the most enormous difference! We have always made good use of the retaining wall garden beds and grown quite a bit of food in it and we've had a sandpit for a while now but, as the ground underneath was hard and hurty, we've always had to put shoes on and only used the space to walk from the door to our destination. Now we are using the whole yard!
Playing games and rolling in the grass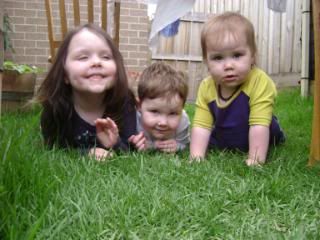 And last night as I went outside to pack up I loved how the yard looked lived in and how I knew that there had been some serious play that had happened out there.
Like tents made out of sheets, that got blown over complete with toys drying after their "baths".
Tea parties and chasing monsters away.
It makes our house feel so much bigger and looking out onto all of that green grass and growing food you can't help but feel peace.
I love our yard so much! It's a pleasure for sure.