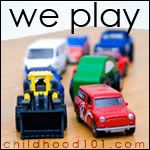 It's no secret that I love to op(thrift)shop. Every so often I come across a cool toy that I think I will just stash away for later. For one of those times when everyone is bored and tetchy I'll have reserves to call on.
Today was one of those days and I remembered the $4 marble run that I picked up a few months ago in an op shop. I had to remember where I'd hidden it...
But I found it and it was a winner! I had to stay pretty close and supervise to make sure that Harper wasn't trying to eat the marbles (I gave Harper her dummy which as least lessened the likelihood of her putting anything else in her mouth while her mouth was full-but I kept an eye on her).
It's handy to have a few things stashed away in case of emergency-and it gives me an excuse to hit op shops and garage sales ;)
Come over to play at the
Childhood 101 We Play link up