Welcome to the Things I Know linkup! Why don't you share what you know this week?
-I love Twitter, but we need to have an open relationship
-When the kids come running in screaming "Mum! There's a HUUUUGE spider" don't panic until you see what they class as huge.
-Spiders the size of a grain of rice are OK for this arachnophobe to deal with. See above point.
-Don't throw out scraps of paper from the toy room without asking. You might have just "ruined everything" by throwing out a vital piece of a letter to Barbie
-To a child on the verge of reading opportunities to learn literacy skills are everywhere!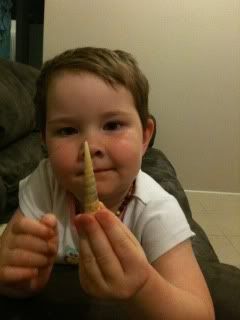 -the imagination of a child know no bounds and never ceases to delight me. See "unicorn horn" above.
-Moral superiority should not extend to toys. My girls get have had so much joy and many hours of play out of "plastic crap" that some of my hippy-la-la peers might look down their nose at.
-Not attaching moral superiority to food, toys, TV and the like can be hard for this hippy-la-la!
-It's not easy being the third child born in quick succession as your Mama might not have the Womens Weekly style cake planned weeks in advance for your upcoming 2nd birthday like she did with the others.
To join in the Things I Know linkup add your link here and don't forget to link back to me in your post. Look forward to reading what everyone knows this week!