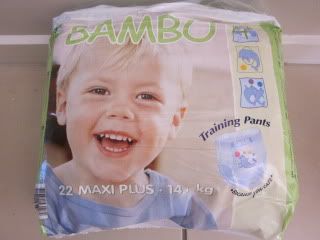 It's no secret that I have had a long love affair with
cloth nappies
. It's only recently that I have been using disposable nappies with any sort of regularity and I do try and make better choices when it comes to where I spend my money there.
I was thrilled to be given a packet of the
Bambo training pants
from
Modern Little Munchkins
. Bambo are made free from harmful chemicals and are 75% biodegradable. They are one of only 3 nappies to be given the "green buy" recommendation by Choice magazine.
Both of my small girls sleep in a disposable and Willow (3 and a half) will only wear "undies nappies" so it's pull up style nappies or bust. We found the Bambo pants were easy to put on and off and they were really absorbent and kept the girls dry. There is also a picture on the nappy which was a big hit here. I'm really glad to have found a chlorine and perfume free nappy in a training pant style and will be using them in the future.
Disclosure-I was given a pack as a sample but was not paid for this post, the opinions are my own.