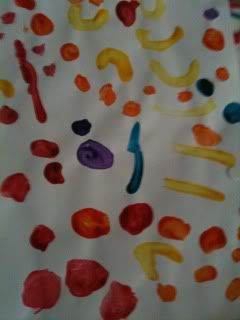 Fruit salad by Willow

I think one of the great myths surrounding radical unschooling is that it is somehow so hands off that the kids will learn by osmosis. I absolutely believe that this is not the case.
Sure, it's about trust, freedom and following the interests of your child but that does not mean that as a parent you are not part of the equation.
I'll use television as an example. In our place our girls have unrestricted access to screen time. But as
Sandra Dodd
has pointed out-the TV should not be the best thing to do, it's one thing to do in a lot of great choices. I will have art (and I'm calling it
"art-not craft"
now thanks Christie!) supplies out and available, I might set up the train set or a
play scene
and I might invite them to do something or go somewhere. I
strew
and rotate things around to keep them interesting. If I pop the TV on and then park myself in front of the computer for the next hour with no interaction or alternative things to do you can guarantee that the kids will pick the TV-because it is the most interesting thing to do. There are great shows that we all love to watch and there are times when TV is preferred over other choices, but there are lots of ways I can be helpful and part of the process rather than just waking up and leaving them to it.
I am able to bring lots of interesting ideas and stimulus into the lives of my children and see where they go with it. I don't have to wait for someone to say "I wonder what happened to the dinosaurs" before putting a dinosaur book in the mix or bringing home a fossil kit. I can show my child how to write her name without it being a lesson with an expected outcome. I can put workbooks in with the colouring in books and see what happens. I can find something on You Tube that I think might be interesting or take everyone to an exhibition. I make plans to spend time with new families to see if we get along.
I answer questions and seek out things that are directly related to topics my girls are currently interested in. I make time for us to catch up with their friends and I take them to their chosen activities. I make notes and inquiries when I come across exhibitions etc that would interest us. I keep the house
chaos free
and make sure their toys and art supplies are easy to access.
I am very active in the unschooling of my children, the difference is that I have no expectation (or I remind myself to have no expectation!) of where the adding of ideas or books etc will take them. I don't "teach" my girls, but they do learn and I am a facilitator to that rather than a passive personal assistant.
I'm joining in with
Owlet
for Unschool Monday