I love getting insight and inspiration from other bloggers on home education (amongst other things)so I thought I'd start this weekly post to share how we have covered one of the KLA'a over the week without using curriculum.
The 8 Key Learning Areas are English, maths, science, technology, health and physical education, the arts, studies of society and the environment (SOSE) and language other than English (LOTE).
This week we have covered SCIENCE with-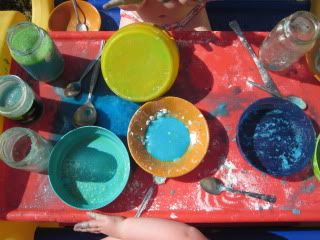 -revisiting potion making often. It is an activity all 3 of the girls really enjoy and ask for regularly. Free discovery like in this
Teacher Tom post
I have mentioned before is everyone's preferred way to do it. And then I do a load of washing and fill the dishwasher.
-we have watched some You Tube of the planets. Tannah is very interested in the seasons and the sun. We have been talking about the north and south poles and length of day and night.
-we made jelly today and it turned into Tannah hypothesizing how long it would take to set using the oven timer.
-the movie Bambi prompted more reproduction questions. Lots of talk about animal behavior around fighting for a mate. We watched some more "Life of Mammals". Mr Attenborough is far more eloquent than I.
-Tannah is getting much faster on her scooter and part of that is learning how to judge how long she will take to stop in relation to how fast she is going.
I'm planning on revisiting this theme every Thursday, if there is a KLA you'd like me to cover in particular let me know!