Welcome to the Things I Know linkup! Tell me what you know this week using the linky below and don't forget to link back to me :)
Right now I have 4 extra kids in my house for a sleepover. They are kids who are near and dear to me that I have known since Tannah was just 6 months old. Their Mamas are my favorite and you probably read their blogs-
Picklebums
,
Kate says Stuff
and
Bogue Living
.
Here is what I know about sleepovers so far
-don't tell your child that TODAY is sleepover day until the guests are walking up your driveway. Unless you enjoy being asked "Is it time NOW?" a million times and appreciate the dulcet tones of *huge sigh* "It's taking FOREVER"
-having a craft activity that requires no preparation is worth every cent
-dobbing is always appreciated when babies are drawing on things they shouldn't be
-getting 7 girls to be still for a photo is not easy, if not impossible
-it's kinda nice to think your friends trust you enough to take care of their kids
-Play School is STUPID and for BABIES
-Having a born leader in the group takes the pressure off me nicely! Thanks Aussie for keeping everyone in line!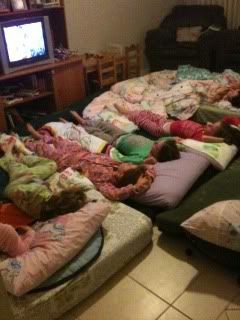 -Enormous beds on the floor and late night screenings of Bindi the Jungle Girl are irresistible to even the bounciest of kids at 10pm
-I'm doing this post tonight because I know I won't have a hope in the morning!