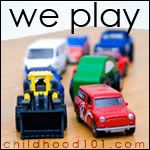 While the girls and I were off on our
road trip
Luke finished the outdoor kitchen project we have been working on.
We picked up the plastic fridge and stove as well as the double sink off ebay. Luke built a stand for the sink and we have made a little kitchen corner for messy and wet outdoor fun! And the whole thing cost less that $60.
The kitchen sits in front of the sandpit (it's covered in the photo) so I imagine there will be many sandy treats cooked up here. But the first order of today was sailing a boat.
Tannah is already looking at ways to make a more seaworthy vessel!
We're playing along with
Childhood 101 for We Play!
Go check out her linkup for lots of other great play ideas.