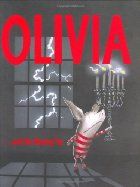 Why do I hate this book?
It's a well written, entertaining and fun book. It's from a series my children adore both in print and on screen.
But this cover artwork has wrecked my life.
We borrowed it from the library about a month ago. It came home. We read it. I tucked the kids in bed. Willow rolled over and saw the artwork in the dim room and FREAKED OUT. No, really-it scared her so much she was shaking and crying. And now she won't sleep in with Tannah. Or with the light off unless she is sleeping up my bum crack. The days of her rolling over and drifting off without 10 calls for a glass of water and various other stalling techniques are over. She is now scared of the dark, and even the not well lit.
We're helping her overcome her fear. We are talking about how to feel safe and why pictures can be scary. We have nightlights. She is now a (semi) permanent fixture back in our room. But it's taking time. I remember how I felt about the phone ringing after seeing "The Ring"-it was a process back to rationality.
I know it is not the fault of the book. Or the artist. It is a 3 year old with a wonderful imagination that ran away with her.
But I need to blame something. So I'm cursing that stupid book.