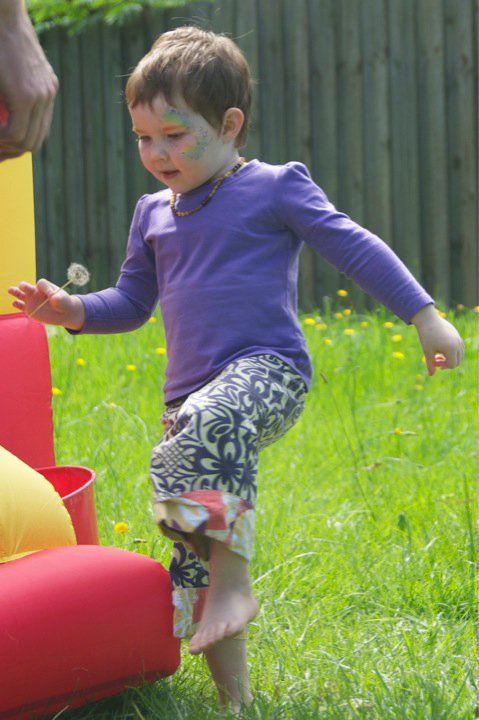 Willow is soon to turn four.
I get moments of feeling guilty about her middle child status. Tannah is at the age where she likes to be the boss and Harper takes up a lot of time being Harper. This leaves my sweet, agreeable and sensitive girl as the one who seems to make the most compromises. I know I'm doing my best and all that but I decided that I wanted to have a day just for her. A day where she could invite who she wanted to and make choices that suit her-with no compromises.
Of course when I put it to Willow she was delighted and immediately invited about 20 people. This ruled out our place. We have held a couple of previous parties at the local neighborhood house and they only charge $70 for use of the facilities for the day. It's great because it has an indoor and an outdoor area-including a playground and sandpit-and it's fenced! We have also found that asking for a plate of food in lieu of a present works really well. Of course the birthday child still gets presents from their nearest and dearest but it is much less overwhelming at this age to have a few special presents and a fun party. Asking for guests to bring a plate also eliminates needing to cater for a lot of different food preferences if that is an issue for you (it is for us!).
At first Willow suggested a Tangled party but I just wasn't sure if I would be able to pull it off with so many kids! A few days later, as I was madly searching the internet for Tangled party ideas, she came to me and said she would like it if all of the kids who wanted to would dress up and we could play a few games. YES. We can absolutely do that.
So now it's on to the invites, and the cake (thinking Tangled tower?? or chameleon??) and more planning, getting invites out and RSVP's and all that jazz. And did I mention this party is the weekend after Blogopolis?
But it will be so worth it for my little pixie.