Willow has recently decided to give living on mainly air and love a go. It's not my favorite especially since she is sensitive to preservatives, colours and wheat so her food choices are limited from the get go. She has even given up hommus which has been like a food group in this house.
Thing is that she is hungry. And she tells me so. But she struggles to find things that she both enjoys and don't upset her delicate little system. Knowing how her body loves protein I have come up with this smoothie. Which my girls have dubbed "Pink Milk" ala Charlie and Lola.
This is enough to serve 3 kids and two adults.
1 litre of milk
two handfuls of frozen raspberries
tblsp raw honey
1/2 cup of yoghurt (get decent yoghurt!)
1 tblsp raw coconut oil
2 raw egg yolks-these are optional but they really add a tummy filling punch. Use fresh, organic, free range eggs for maximum benefit and safety.
If I have some spinach I add a few leaves as well. You cannot taste them and it changes the milk to greenish which is almost as exciting as pink.
Chuck it all in the blender and WHIZZ
My kids are offended by pips in smoothies so I strain it
And there you have it! A very easy and delicious way of bulking up a fussy eater's diet.
Serve it cold and chuck all the blender bits in the dishwasher :)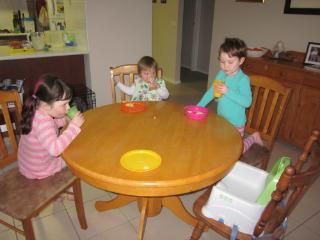 I'm joining in with
Kate says Stuff for her Menu Planning Monday