I often get asked how we unschool? What does a day look like? Yesterday was a pretty usual sort of day for us when we don't have outside plans with friends so I decided to write it down.

About 7:30-Tannah wakes and comes in to me. This is early for us so snuggle her in with me for some extra sleep.
8:00 we're out of bed. Willow too. Kids watch some ABC kids while I get a jump on the housework. After a while Harper wakes and Luke is up at around 9. I'd like to say we have a very lovely steiner inspired breakfast complete with a verse but the reality is that we all have a different way of doing breakfast. Cereal or toast after about an hour for Tannah, cereal pretty much straight after waking for Willow and Harper starts with a snack as her feet hit the floor like nuts or yoghurt. I make a smoothie at the end of breakfast for us all to share.

10am-kids have been engrossed in lots of play. TV is on but no one is watching it. There is a game involving princes and princesses, including dress ups and some stuffed animals and plastic animals are also attending a vet clinic. There is also some art side projects going on that involve people shaped cut outs and flower stickers.I NEED to mop the floors so Luke takes the kids to the park with the puppy for an hour or so. When they get back the kids help Luke feed and water the guinea pigs and chickens and play outside in the mud kitchen.
12pm-Everyone washes up and we sit down to our main meal before Luke heads off to work. After lunch Harper watches a movie for some quiet time (I hope she'll fall asleep but she doesn't) and the big 2 pick up the vet clinic game, using bandaids. I jump on the computer for a bit. After a while the bigs come and find me and we sit up in bed and look at you tube clips of sea animals for a while. Harper joins us. Kids try and fail to get dog involved in vet game.


3pm-it occurs to me that we haven't been to the library in ages (I'm scared of the fines lol) so I ask the kids if they want to go. Resounding YES. Pick books and DVD's at the library including some ones about birds because the movie Rio has sparked their interest and a dolphin book from watching You Tube. Kids ask to stop at a different park on the way home so we do. Play until it gets freezing.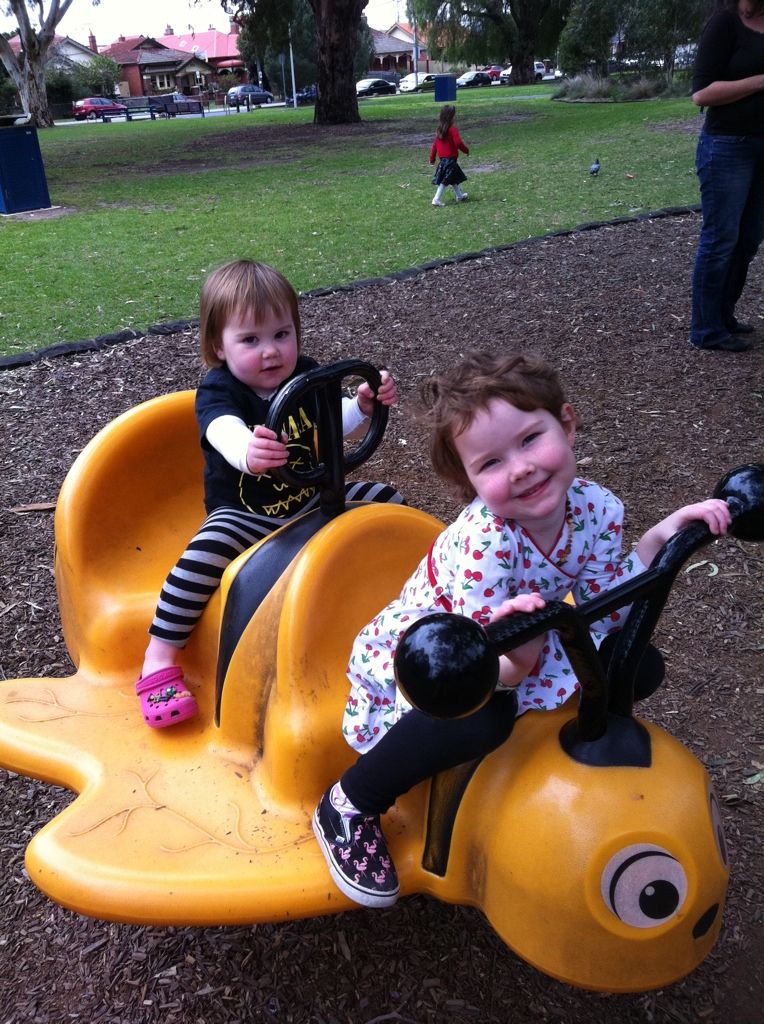 5:30pm-I start dinner for me and the girls. Kids check out their new library books and then decide to play fairies with the new stuff Willow got for her birthday. They ditch that pretty quickly and get out the puzzles and drawing stuff.

6pm-eat and the get into pjs. Put a DVD from the library on while I pack up. Harper falls asleep on the couch. After the movie finishes I sit down with Tannah and Willow and we read some books. Tannah has just discovered early readers and she reads us one as well. Tuck the bigs into bed and read from the new Rainbow Fairy book.

9pm-All kids asleep. I faff around on the computer for a while and pretend the mountain of washing isn't there. Check plans for the rest of the week-seeing another home ed family in the afternoon tomorrow, 2 separate catch ups with friends and their kids at either ends of town Thursday and have an unschooling meet up planned for Friday afternoon! Feel glad we had an easy day today.

11pm-Mama goes to bed!
That's a fairly typical plan free day for us-what does it look like at your place?