Happy Friday everyone and welcome to the Things I Know linkup! If you want to join in write your own Things I Know post including a link back to me and add your link below.
This week I'm talking up my husband Luke who
I've nominated as a Most mentally Sexy Dad
over at
Reservoir Dad.
Here is what I know about my hubster
-he's a Star Wars geek. He is longing for the day that our three sensitive to movie content girls are not terrified at the mere thought of Darth Vader. Until then he has to be content with shooing them away from his set of figurines
-he still pretends that zucchinis/rolls of foil/rulers etc are penises at the shops. And it never fails to get a laugh out of me.
-he loves spending time with his kids. When he is parenting solo he looks for fun stuff to do with the girls and genuinely enjoys their time together.
-he's handy! I come up with all sorts of DIY projects for around the house (like the
kids outdoor kitchen!
) and leave him to build them with little extra assistance. And then I often change my mind or have another project in the wings.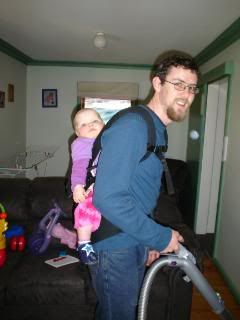 -he may have siphoned the birth pool with his mouth but he drew the line at watching me eat a bit of Harper's placenta.
- he's a self confessed bogan. He's a tradie who's favorite band is Metallica and loves cars. Not to mention his love of black jeans. And I hope he never changes.
-he's a great Dad. He is a parent to the girls as much as I am. He is a part of their lives in every way, from the decision making to the bum wiping. He's not scared of housework either, his love of the Dyson is unholy.
-he's my rock and I couldn't do it without him.
-if you know a mentally Sexy Dad why not
nominate
him? The competition closes on August 21.
Or you could always go and vote for Luke :)