The Womens Weekly Birthday Cake book was a dog eared book at my place when I was a child. My Mum made us many of the cakes featured and my brother and I studied the pages and made suggestions as to what cake to make us for our next birthday. The train? Had that. Mickey Mouse? Done. Dolly Varden? Bitch please, of course.
Eventually the book fell apart and it ended up in the bin.
Fast forward to when Tannah was a baby. This book was yet to be reprinted (you can buy it anywhere now)and I had just made the worlds most joe-kick-ass 1st birthday cakes (yes cakeS. My firstborn had three separate cakes made for separate events by yours truly)and decided I was in need of the old school cake book.
I had a conversation with my Mum who agreed that she was the cake Jedi and I was a promising Padawan who's knowledge would only be enhanced by said book.
Mum was at a market a few weeks later and found it! She found a copy if the cake book in excellent condition and bought it for a few dollars. She then rang to gloat.
It seemed that she decided that she should keep the book and I should find my own copy. The book invoked feelings of nostalgia and a desire to bake cakes for her grandchildren.
I sulked. I pouted. This amused my mother. She dangled the carrot. But she took pity because a few weeks later the book arrived-with this note taped in the front.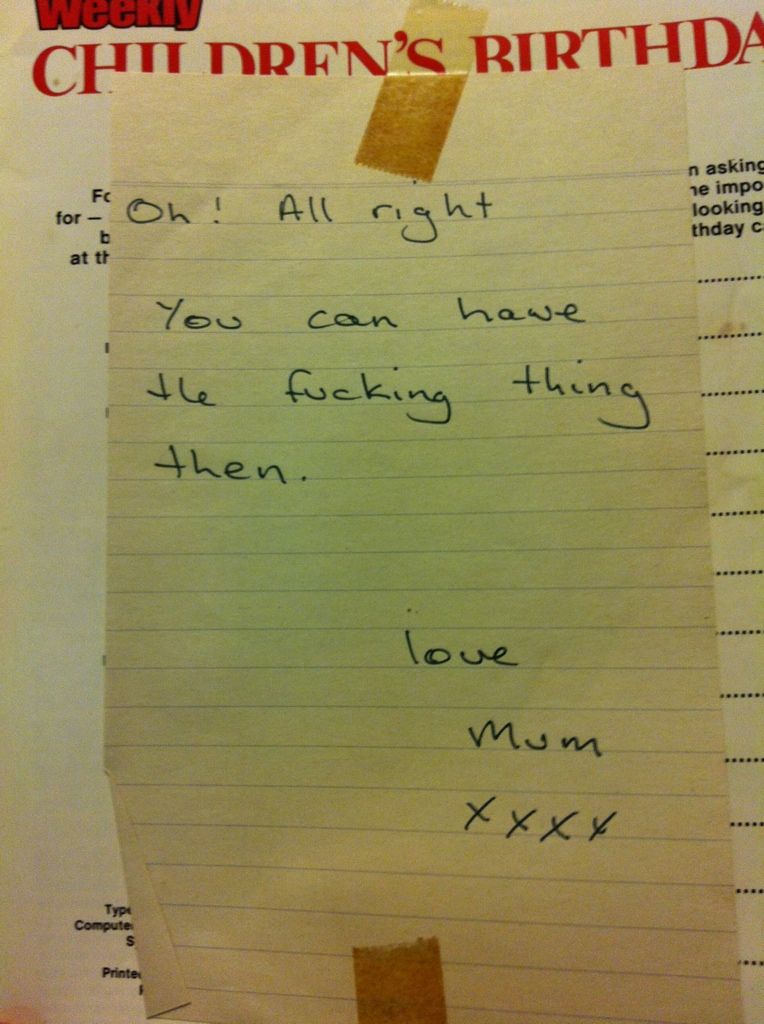 You know I still haven't baked a fucking thing out of the book