Our tiny backyard and garden have been through some changes since we
first started doing it up
and we have had a lot of
success with growing a whole host of food
despite the lack of space.
We have kind of let things slide over winter this year. Not intentionally, just a combination of a lot of rain and not much enthusiasm. But the raspberry canes are loaded with promise for a bumper crop and I thought it might be worth getting my ass into gear to keep out tiny backyard abundant and productive.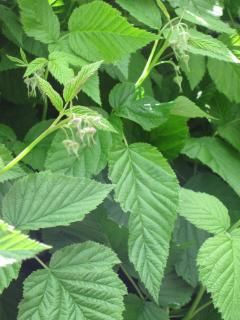 Look at all those raspberries waiting to grow and be eaten!
We spent a big deal of last week's spare time weeding, pulling out what is no longer productive, mulching, planting and planning.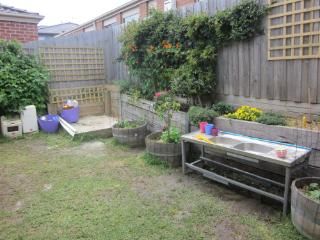 We moved the
kids outdoor kitchen
sink to a better spot and have planted out all of the barrels and raised garden beds with new seedlings. You might be surprised at how much fits into such a small food garden (I recommend reading Jackie French's "Backyard Self Sufficiency") but some of what we have planted is-
beetroot, rainbow chard, tomatoes, capsicum, zucchini,apples, mandarin, about 6 types of lettuce and greens, leek, kiwi fruit, peach, cucumbers, watermelon, snow peas, brocolinni, pak choi, raspberries, strawberries, blueberries and about a dozen different herbs. Not to mention out passionfruit bush has gotten busy.
Having all of the garden around the edges really makes a lot of room in the middle for the kids to play and the guinea pig house as well as the dog kennel (which is a re-purposed rabbit hutch) fit in neatly amongst the barrels of food.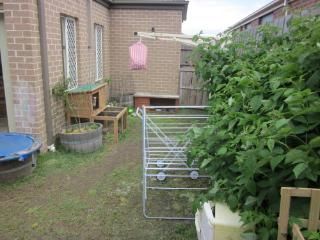 The grass has really taken a beating over the wet winter and with a dog ad kids to contend with but I think we might scatter some seed to bring it back. Fingers crossed. We've had to wrap some wire around the barrel because Daisy the puppy has been having some fun in there. We used wire that you can see through and Luke cable tied it large enough so it can slide off when we want to get in there.
We plant flowers in amongst the food not only to attract bees but to give the kids something to pick so they leave the food alone. We have a massive snail problem (they ate 6 seedlings the first night!) so we have resorted to the iron based snail pellets. I'm hoping if we wipe out the first wave then we might have a chance of keeping them at bay by hand.
I'll keep you posted on how much food our tiny backyard garden brings in. I know I get a lot of joy out of pottering out there and the kids do too. They have all planted a giant sunflower seed and are "racing" them.
Happy spring!