"I never had any friends later on like the ones I had when I was 12 - Jesus, did you?"
Stephen King "The Body" Different Seasons (but you might know it from the movie adaptation which is Stand By Me)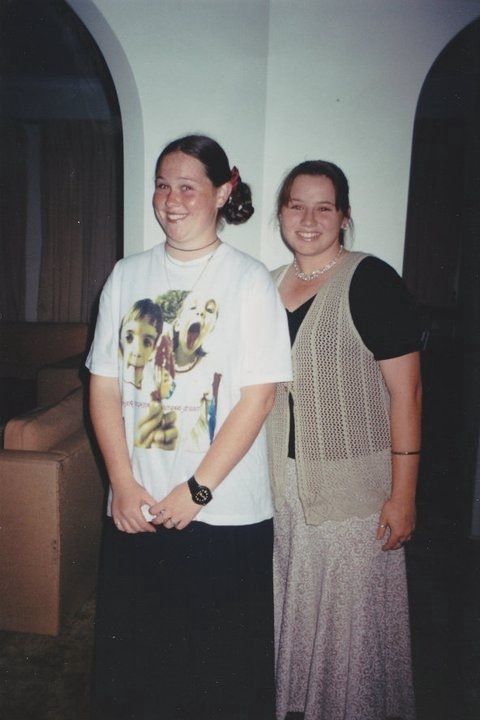 This photo was taken when I was about 13 or 14. I'm the one with the kooky plaits and Smashing Pumpkins tee (I wore that shirt until it was a see through rag that actually fell apart). The brunette next to me is Chris, one of my oldest and best friends.
When we were in our early teens we spent practically every day together either at school or sleeping over at each others houses playing music, being silly and discussing the important topics like boys, why our Mothers were ruining our lives and what we were going to be when we grew up. We had matching Doors tee shirts and spent many hours lamenting why we would never get to go to a Doors concert and swoon over Jim Morrison. She made fun of my love for W. Axl Rose and I endured her obsession with Vanilla Ice. We were even on the same netball team. We both acted up at school but she always seemed to get away with it and I would end up at the office or banned from the classroom. I had a major crush on her older brother and cried when he left for uni.
Chris left school at the end of year 11 and moved to Melbourne. I was gutted. She sent postcards and letters and we saw each other when she came back to the Gold Coast to visit her family-I even took a trip to Melbourne and stayed with her when I was 20 and my ex and I were having dramas. When I moved to her city we started catching up more regularly again. For 2 years running a "few quiet Christmas drinks" with Chris turned into an all night party that ended with me waking up on her lounge room floor with an epic hangover and a hazy memory.
Of course having kids has changed how often we catch up. Chris is footloose and fancy free with a busy job and I'm busy with my kids. But when we catch up it's always fun and like no time has passed.
Chris rang a month or so ago and said "Shae, are you sitting down?" Many thoughts ran through my head. She's up the duff, met someone, eloping, moving to the UK etc etc. I nervously waited for her to give me the news.
"I bought us tickets to see Vanilla Ice!"
Wait, what?
So on Friday night I was at the Doncaster Shoppingtown Hotel with my friend who was at the last Vanilla Ice concert 20 years ago (yes that long) and we got to rock out to Ice Ice Baby and get all nostalgic as the DJ played Tone Loc, Salt n Pepa and Sir Mix-a-lot.
We carried on like we were 15 again, did those funky 90's dance moves and amazed ourselves that we still knew all the words to "Gangstas Paradise". Of course we screamed carried on when the Ice Man himself rocked a mic like a vandal but shit got crazy when we were part of a group who danced ONSTAGE. Yes, I danced onstage with Vanilla Ice. I now come with extra cool.
It's not your normal 32 year old mother of three behavior but I'm hardly normal.
But mostly I had a ball with my friend. Just like always. Except now there are iPhone photos to share on Facebook.