So we're back from holidays! Almost 3 weeks of staying with my parents on the Gold Coast. I grew up there and still have many friends and lots of family to catch up with. It's busy, fun times and it means a lot for me to go back. I always shed a tear as I walk across the tarmac to board my Melbourne bound flight but Melbourne is now home-and I always feel like I am "coming home" when the wheels hit the ground at Tullamarine airport.
But I will always be a "Goldie Girl" at heart. This holiday for me was about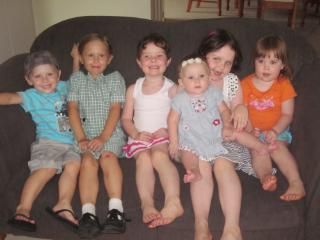 Getting the cousins together. It was the first time that I met my niece which was very special and I just loved seeing all six of my parent's grandkids playing together.
Getting outside! We took full advantage of the predictable warmth and got out and about whenever we could.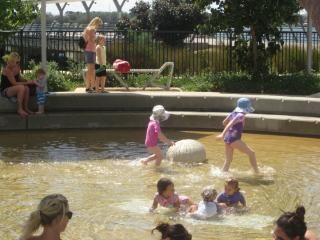 We tried out a new outdoor water play park at the Broadwater Parklands called
"The Rockpools"
That I cannot recommend enough. Lots of water doing lots of fun things, suitable for young kids with any or no swimming ability and close to a clean toilet and yummy cafe. And it's FREE.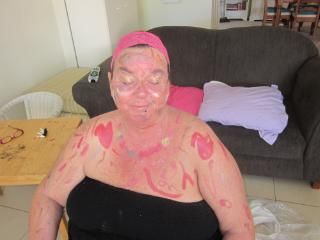 The girls spending time with and being loved on by their grandparents. They have such a great relationship despite the distance and my Mum lets them give her "makeovers" and my Dad takes them swimming at the beach and watches endless hours of Dora the explorer.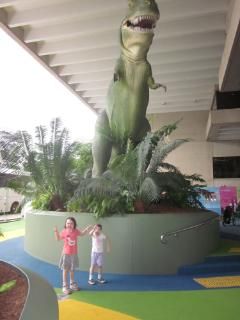 Showing my kiddos fun things I did as a child. Like taking them to the Queensland museum and taking the exact photo that my parents have of my brother and I.
Doing Seaworld. It's become a holiday ritual.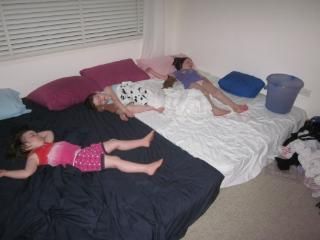 Reliving the old "family bed" days. I'm not ashamed to admit that I love having us all in together.
It was such an ace holiday despite a bit of illness and me having the WORST hangover in my life. I so enjoy catching up with family and friends and being cooked for by my Mum and looked after by my Dad. It's so lovely to kick back in my old 'hood.
But it's also nice to come home