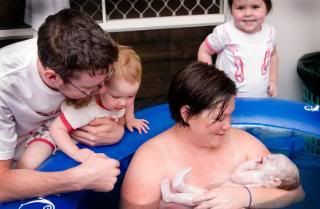 I'm
Shae
-woman, mother, daughter, sister, wife, friend, feminist, radical homemaker, birthing goddess, breastfeeder,
fatty,
smart arse, lifelong learner.
My 3 amazing girls-
Tannah
is 6,
Willow
is 3 and
Harper
is 2. My husband Luke, the kids, the 4 chooks, the 3 guinea pigs and I all live together in suburbia on Melbourne's outskirts. We try to parent, eat and consume consciously.
My blog is about a lot of things. Mostly it's about our life as a
school free
, free rangeish family. There is a lot about birth,
birth trauma
&
homebirth
. As a recovering vegan who is now a committed omnivore
eating real, old fashioned
, home
cooked food
you can read some about that. I blog about breastfeeding,
co-sleeping
and other aspects of connected and attachment parenting. I blog about
radical unschooling
, natural learning and how we do it. I talk about sustainability and being a bit
self sufficient
on a
tiny block.
I talk about
Fat
acceptance. I share "Things I know" on a Friday.
I do get up on my
soapbox
about some issues and my blog is a very real account of day to day
life
as a Mama of 3 young children and it's
not always sunshine and rainbows
. I don't have a fancy camera though I am working on it.
Ive been featured at-
Planning With Kids
Childhood 101
Woman Uncensored
Bring Birth Home
Nursing Freedom
With Tears Of Love
Natural Parents Network
MagnetoBoldToo
Eco Toys Blog
-
Twice!
I also write the "Yay For Home" column in the
Otherways
Magazine
Feel free to contact me or comment. It feeds my ego :)
Enjoy!